Maria Cristina is an Assistant Professor, University of Pisa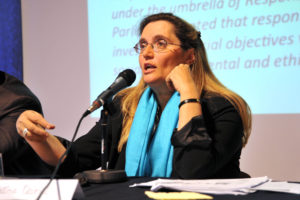 She is expert on evolution of regulation and functionality of intermediaries operating in financial markets, especially securities markets, with a special focus on the impact in the regulatory contest of the European directive and rules.
She has recently started working on the development of Socially Responsible Investment in EU countries, having a particular focus on institutional investor's strategies of investment, in order to compare results of the traditional financial Funds with the "ethical Funds" ones.
Having contact with "University Meets Microfinance" (UMM)- a European network of different European Universities in order to study problems and opportunities offered by the diffusion of microfinance and, in general, of socially responsible financial methods in Europe and all over the world to provide better answers to the actual numerous economic problems. Author of numerous publication in the field of banking and securities markets regulation. She will contribute to the Jean Monnet project.